How Long Does Invisalign® Take to Straighten Teeth?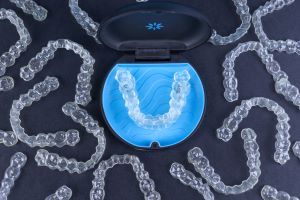 Since 2004,
Dr. Zicchino
has helped thousands of people achieve smiles they love. All of us at Coastal Dental in Point Pleasant, NJ take pride in our work and love seeing our patients leave with confidence.
Invisalign®
is an increasingly popular option for achieving a confident smile for people of all ages. Since its inception in the late 1990s, Invisalign
®
has been trusted by millions due to its overall convenience and effectiveness. While it's much more convenient (and discrete!) than braces, there are still a lot of questions surrounding this treatment option. Our experienced dentist is here to answer all of your questions about Invisalign
®
, starting with how long Invisalign
®
takes to straighten your teeth! 
How Long Does Invisalign® Take to Work?
It generally takes six months to two years for Invisalign
®
aligners to give our patients their desired alignment.  In most cases, straighter teeth can be achieved in a shorter time frame than with braces. A quicker straightening process is possible because the Invisalign
®
aligner trays work to correct every tooth simultaneously. In contrast, braces focus on straightening each tooth individually despite typically going on every tooth.
How Long Does Invisalign® Take to See Results? 
You could start seeing results from Invisalign
®
treatment within just a few weeks!  Result time varies from person to person, and desired results can take upwards of two years, but progress can become visible very quickly.  Although straighter teeth may be observed within a month, no one should take this as a sign to get complacent with the time they spend wearing their aligners. It is vital to wear the aligners for the time recommended by Dr. Zicchino.
What Affects Invisalign Treatment Time? 
Several factors affect treatment time using Invisalign
®
. Variables include how diligently the aligners are worn, the age of the patient, and the severity of tooth misalignment. 
How Long You Wear Your Retainers For
It is crucial to wear the Invisalign
®
aligners for the recommended time of 20-22 hours per day.  The two to four hours per day that the aligners can be removed are reserved for eating, drinking anything besides water, brushing teeth, and cleaning the aligning trays. Leaving aligners out for much more than two to four hours per day will allow the teeth to start shifting again. If this happens, the treatment time will lengthen, costing more money overall.
Your Age 
Responsibility is the primary factor age plays in treatment time for Invisalign
®
. Teens are generally less diligent about how often they wear their aligners and tend to lose them more frequently.  Every extra hour a patient goes without wearing their aligners delays desired results. This said, losing them could mean spending days waiting on a new set, causing negative progress. To help hold teens accountable,
Invisalign Teen®
was created. This product is virtually identical to traditional Invisalign
®
but bears a small blue dot that fades away after two weeks. At the end of two weeks, if the dot is still visible, it can be concluded that the patient did not wear their aligners as directed. In addition, with Invisalign Teen
®
, patients can get up to six free replacements in the event aligners are lost or broken.
The Severity of Tooth Misalignment Being Fixed
The severity of tooth misalignment plays a major role in the treatment timeline.  Invisalign
®
aligners can correct most tooth alignment issues on their own. Occasionally, patients may require a procedure such as dental restoration before beginning the straightening process. This is determined during the patient's preliminary evaluation and is explained in great detail by Dr. Zicchino.
How Painful is Invisalign? 
One of the primary benefits of Invisalign
®
is that the aligners are relatively painless; especially compared to braces. Some patients do, however, report some discomfort, and only a handful report actual pain. The most common side effect of Invisalign
®
is sore or tender gums, which is nothing to worry about.
Invisalign Treatment in Point Pleasant, NJ 
If you aren't happy with the alignment of your teeth,
schedule an appointment
today! Our dental team will walk you through what Invisalign
®
treatment would look like to get you the straightest smile possible! 
---
About the Author
Dr. Joseph Zicchino provides a wide array of
dental services
, including
Invisalign® Clear Aligners
, at his practice in Point Pleasant, NJ. He earned his dental degree from NYU Dental School and established Coastal Dental Group in 2004. For more information call
(732) 714-1030
or to
schedule an appointment
!