Is Invisalign® Faster Than Braces?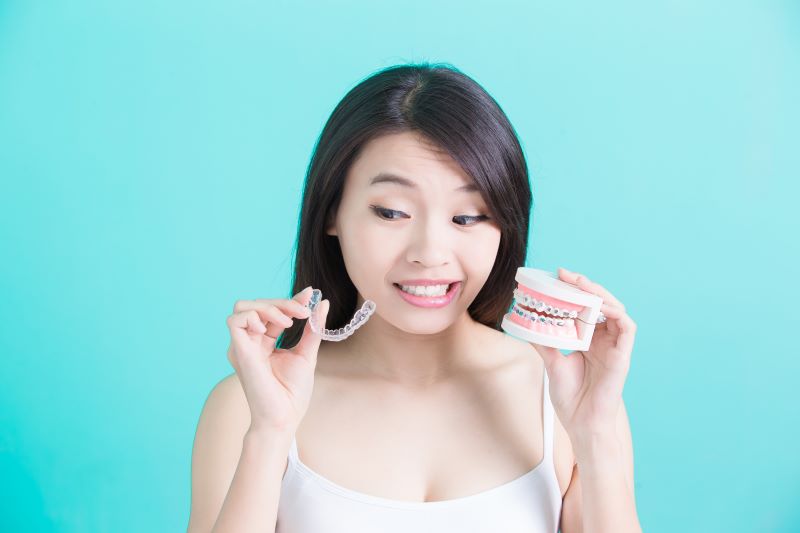 Invisalign
®
versus braces is a common debate because of the numerous pros and cons of each. While braces are the tried and true method, millions of people trust both straightening techniques to align their teeth. We offer
Invisalign®
to our patients in Point Pleasant, New Jersey, and are proud to see the confident smiles it produces. Over the years, Invisalign
®
technology has been improving to handle tougher tooth alignment. This makes the case for using Invisalign
®
over traditional braces is stronger than ever, but do they work faster than braces?
Invisalign® vs. Braces: Which Is Faster
This study
provides evidence that Invisalign
®
can work almost six months faster than braces to achieve nearly the same results. If Invisalign
®
can work faster than braces, they must be more painful, right? Well, not necessarily. Many people still have the "no pain no gain" mentality when it comes to teeth straightening, but this simply isn't the case. Invisalign
®
is able to be relatively pain-free because the aligners apply less pressure to the teeth than braces since changes are made in smaller increments than braces. Aligners are changed to further tooth movement about every week while braces are adjusted about every month, so braces require more pressure up front to consistently change tooth alignment throughout the whole month.
How Does Invisalign® Work?
The process of Invisalign®
has a few different steps, requiring a couple different visits to your local dentist. Here's how it works:
Consultation – A consultation is required to make sure Invisalign® is an appropriate tooth alignment method and that no prior dental work is needed. Some things that may need to be addressed include root canal treatment or periodontal therapy. During this appointment, you'll also have X-rays and imaging done to make sure Invisalign could correct your teeth misalignment.
3D Scan – Once approved for Invisalign®, a 3D scan is taken of the patient's mouth to be sent to Invisalign® so they can manufacture the custom aligners. During this stage, a treatment timeline is established
Aligner Fitting & Attachment Nodes Placement – The aligners should arrive in about four weeks, which is when patients will come in to make sure their first set of aligners are a perfect fit! We may also apply small, discreet nodes to four teeth. These nodes help the aligners stay on the teeth while still allowing easy removal
Straightening Process – The straightening process generally takes six to 24 months. During this time, patients receive new aligners every one to two weeks to promote quick and consistent alignment correction. Even though clear aligners won't require adjustments like braces do, we still recommend visiting your dentist every few weeks to make sure your teeth are moving the way they should be
Final Evaluation – When patients finish their last set of aligners, an evaluation is conducted to see if further alignment will be necessary. If everything looks good, the nodes are removed and you walk away with a straighter smile!
Retainers – Once the desired alignment is achieved, a retainer is fit to keep the teeth straight. Without a retainer, teeth will begin to shift back to their original misalignment.
How Do Braces Work?
The process for getting braces is much different than Invisalign
®
. In general it requires more visits to the orthodontist and, usually, is a little more painful than straightening your teeth with clear aligners.
Consultation – This consultation consists of a thorough dental exam and x-rays. During the consultation, a plan for straightening is determined based on the individual's needs
Application – Typically, on the second visit, brackets and molar bands are installed to each tooth, which hold the wire that does the actual straightening. After the brackets are bonded to the teeth and the sliders attached, the wire is ready to be connected using elastic bands
Straightening Process – The length of time for alignment correction takes between 12 and 36 months, and the wires are changed and tightened about once a month. Generally, throughout this alignment process, each replacement wire is thicker than the last. This allows further movement of the teeth toward the desired goal
Removal – The removal of braces is essentially the reverse of getting them installed, down to the x-rays. The x-rays are done to make sure the bone has properly healed, and no issues have arisen during the treatment
Retainer – A retainer is required after the desired alignment has been achieved to keep the teeth in the desired place and prevent them from reverting to their prior misalignment
How Much Does Invisalign® Cost?
The base price for Invisalign
®
typically starts around $3,000 and can get up to about $9,000. The severity of tooth misalignment is a primary determining factor in the actual price a patient will pay. This is because treatment time is closely related to the distance teeth need to travel to achieve the desired result. Next, responsibility is a key component in price and treatment time because aligners must be worn for 20-22 hours. If patients don't wear their aligners as directed, teeth will begin shifting back, resulting in negative progress and extended treatment. Also falling under responsibility, keeping track of Invisalign
®
retainers will save money in the long run because each lost set of trays requires additional payments that can quickly add up.
How Much Do Braces Cost?
The cost of braces generally ranges from $2,000-$8,000. The main factors affecting this price are the severity of misalignment and the type of braces. Severe misalignment makes the application process more involved for an orthodontist and requires a longer overall treatment time. This, in turn, results in more equipment throughout the alignment. Additionally, different prices accompany different types of braces. For example, traditional metal braces will be closer to the lower end of the price range, while ceramic braces will be in the middle to the upper part of the range.
Invisalign® vs Braces: Find Out What's Best for You
Our experienced dental team in Point Pleasant, NJ can help you determine the best teeth-straightening method for your
cosmetic dentistry
needs.
Schedule a consultation today
to get the process started!
---
About the Author
Dr. Joseph Zicchino provides a wide array of cosmetic dentistry services, including Invisalign® Clear Aligners, at his practice in Point Pleasant, NJ. He earned his dental degree from NYU Dental School and established Coastal Dental Group in 2004. For more information call (732) 714-1030 or to schedule an appointment!