How Long Do Dental Implants Last?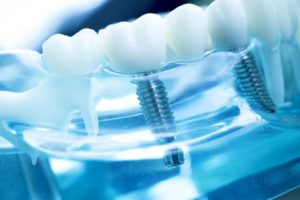 If you're one of the millions of Americans looking for a solution for their missing teeth, then you know that doing your research is important. You should know exactly what you're getting and how it will help to restore your smile. One of the things you want to consider is how long a tooth replacement option will last before you need to get it repaired or replaced. This is part of the reason why 
dental implants
 have become so popular over the past few years. Continue reading to learn more about the longevity of dental implants from a dentist near you.
Are Dental Implants Permanent?
You have probably heard implants be referred to as a permanent tooth replacement option. While they are long-lasting, they do not necessarily last forever. Dental implants have a lifespan of 25 years+! But their longevity depends on a multitude of different factors. Here are some that affect them the most:
Maintenance
Location of the implant
Skills of your dentist
Gum health
Certain health conditions
How Can You Prolong the Life of Your Dental Implants?
There are also factors that are completely in your control that can help to increase the longevity of your implants. Here's what you should do:
Choose an experienced dentist: When you're getting any procedure done, you want to ensure that the healthcare professional knows exactly what they're doing. Before you get your implants, ask the dentist about how long they've been placing implants and how often they do it. Read about them online. You should be informed about whose hands you will be in.
Practice good oral hygiene: The longevity of your implants depends on daily flossing and brushing. If you aren't keeping up with good dental hygiene, you are more likely to develop periodontal disease which can cause an implant to fail.
Be careful: Remember that your teeth are not tools, even if they aren't your natural teeth. Chewing on nonfood items like pencils, pens, and packaging can cause your implants to become damaged over time.
See your dentist regularly: When you go in for your regular appointment, you generally receive a professional cleaning as well as a checkup. If there is an issue in your mouth that could lead to the failure of your implant, then it's important that your dentist catches it early so it can be treated!
Replacing your missing teeth is a huge decision, and dental implants have proven to be effective in helping patients get their smile back. By doing your research and taking proper care of them, you will be able to show off your implants for years to come!
---
About the Author
Dr. Joseph Zicchino established Coastal Dental Group in 2004 and has been serving Point Pleasant, NJ ever since. He earned his dental degree from NYU Dental School and completed his residency at Mountainside Hospital in Montclair. Dr. Zicchino offers dental implants as a teeth replacement option. For more information or to schedule a consultation, visit his website or call (732) 724-0296