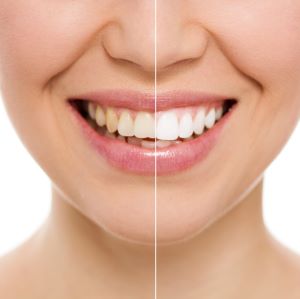 Do you want a whiter smile without the sensitivity that typically comes with whitening? Philips Zoom whitening could be for you!
But what is Zoom Whitening? And how does it compare to other in-office tooth whitening methods?
Our one-day whitening treatment in Point Pleasant, NJ, is designed to fit your schedule and give you a brighter smile in the tightest of deadlines.
What is Zoom Whitening?
Zoom is an in-office teeth whitening product from Philips. Its proprietary formula leaves you with little to no post-whitening sensitivity while giving top-shelf results.
Dental professionals all over the country use Zoom for its high efficacy and low risk. It also works quickly, giving you a brighter smile you will want to show off in just one visit!
How Does the Zoom Whitening Procedure Work?
The whitening process with Zoom is simple yet effective. Here's what to expect when the time comes to whiten your teeth with Zoom.
Initial Exam & Consultation
Examination – Ensuring your teeth are healthy enough for whitening treatment is an important step. If your teeth are damaged or too thin, damage can worsen, causing increased sensitivity or pain.
Treatment Plan – After getting the okay to proceed with whitening your teeth, we will determine a treatment plan based on your goals. The whiter you want your teeth, the more time it will take.
Cleaning – Cleaning your teeth before beginning treatment helps the Zoom treatment work as intended.
Zoom Whitening Procedure
Gum Protection – Now it's time to begin the actual whitening treatment. First, we dam off your gums so the Zoom gel does not come into contact with them.
Gel Application – Next, we carefully apply the Zoom whitening gel to your front six to eight teeth.
Activation – After the gel is in place, we will shine a blue LED light on your teeth for 15 minutes to help activate the magic ingredient — hydrogen peroxide.
Repeat – We will usually repeat steps four through six two more times to achieve your whitening goal. After each interval, we clean the gel off your teeth and apply a fresh coat.
Post-treatment Gel – Finally, we add a special gel to your teeth to protect the enamel and reduce sensitivity.
How Long Does Zoom (Teeth) Whitening Take?
The total time you will be in the chair is around an hour, but the treatment time is 45 minutes. It is split into three 15-minute intervals. The extra time comes from prep and cleaning and applying more whitening gel between each interval.
In-office whitening is the quickest and safest way to whiten your teeth for any occasion. Especially when compared to at-home whitening procedures.
How Much Whiter Can Zoom Make My Teeth?
Philips Zoom can whiten your teeth up to eight shades. For perspective, two shades are a noticeable difference. Oftentimes, two to four shades are all that are required to have pearly white teeth.
What Makes Zoom Whitening Different?
While most whitening treatments can give you similar results, there are a couple of ways in which Zoom stands out as a superior whitening method.
No Heat
The wavelength Zoom's LED activator emits does not produce any heat. This means you won't have to deal with any uncomfortably warm temperatures during the treatment process.
Limited Sensitivity
Next, Zoom causes little to no sensitivity. This is because the gel contains a compound called ACP (amorphous calcium phosphate). It is the only FDA-cleared sensitivity compound that is dual-action.
APC provides immediate and lasting relief from sensitivity. It also will leave your enamel protected, further improving the appearance of your teeth.
How Much Does Zoom Whitening Cost?
At Coastal Dental, we charge a flat rate of $799 for Philips Zoom treatment, but frequently run specials and promotions. Check out our specials page to see if you can save today!
Proper Dental Care After Zoom Whitening
After whitening treatment, you will want to be mindful of the things you eat and drink and the habits you indulge in.
Keep Your Smile Bright
There are several foods, drinks, and habits you should minimize to get the most out of your Zoom whitening treatment. The better you take care of your oral health, the longer your teeth whitening will last!
We recommend avoiding the following:
Darkly pigmented foods such as berries and red sauces
Darkly pigmented drinks such as dark sodas, red wine, and coffee
Acidic drinks like citrus fruit juice and carbonated drinks
Tobacco products
If you're wondering what you can have, we put together this guide on the best things to eat after teeth whitening.
Avoid Sensitivity/Pain
With Philips Zoom, you will experience little to no sensitivity. Just in case, it is best to avoid excessively hot or cold foods and drinks for 24-48 hours.
Cold Products to Avoid:
Ice Cream
Popsicles
Iced Drinks
If you still want to have a cold drink, use a straw to limit the liquid's contact with your teeth.
Hot Products to Avoid:
Coffee
Hot Tea
Piping-Hot Food
Is Zoom Whitening for Me?
Philips Zoom is for almost everyone! However, there are some groups of people that may experience adverse effects.
Pregnant or nursing women
Those under 13 years of age
Anyone being treated for a serious illness or disorder
Get Whiter Teeth in Point Pleasant, NJ
No matter your reason or timeline for whitening your teeth, we can help! Request an appointment online or call us to set up your appointment today!
---
About the Author
Dr. Joseph Zicchino provides a wide array of cosmetic dentistry services, including Invisalign® Clear Aligners, at his practice in Point Pleasant, NJ. He earned his dental degree from NYU Dental School and established Coastal Dental Group in 2004. For more information call (732) 714-1030 or to schedule an appointment!